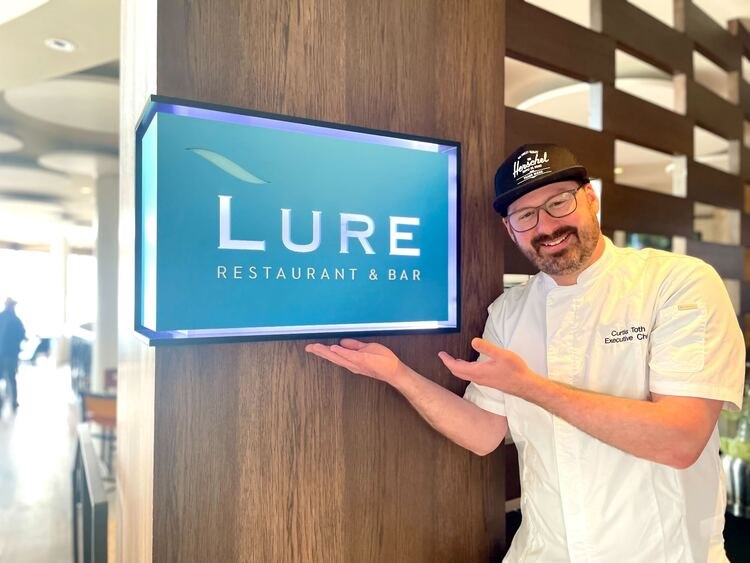 CHEF CURTIS TOTH - RE-IMAGINING TRADITIONAL CUISINE
Chef Toth's culinary style is to "creatively re-imagine traditional cuisine in modern presentations".
Chef Toth successfully led the team at Hotel Saskatchewan's Autograph Collection Hotel where he won the "Great Canada Kitchen Party" in 2020 showcasing his support
for local producers and ingredients. As a newcomer to Vancouver Island, Chef Toth is excited to work with his new team and the many amazing local suppliers available
to take LURE to the next level!
"Our menus showcase the unique culinary diversity that we source from Vancouver Island growers, artisan food and beverage producers and local waters."
"Wonderful views and the staff are so friendly and happy. The breakfast we had was delicious."

Facebook Review - August 2023

"Enjoyed the new brunch menu + great friendly service. ⭐️⭐️⭐️⭐️⭐️ Highly recommended!"

Facebook Review - June 2023

"Lure offers a great view of the Inner Harbour and has outdoor patio and indoor dining with giant windows, bringing in loads of natural light to its woodsy, casual interior...It was a quiet atmosphere when we dined over the holidays and it's suitable for romantic, business, family and group dining."

Tripadvisor Review - 2023

"We had a 3 night stay and several meals at the restaurant. Above all, great servers, who went above and beyond and knows their stuff! Good recommendations, special attention, everything you want when you're on that special weekend getaway!"

Tripadvisor Review - 2023

"Very good Happy Hour. We visited Lure several times in the last month and it's always top shelf. Excellent munchies and a great spot to watch the goings on in the harbor. Several superb wait staff and excellent beverages."

Tripadvisor Review - May 2023